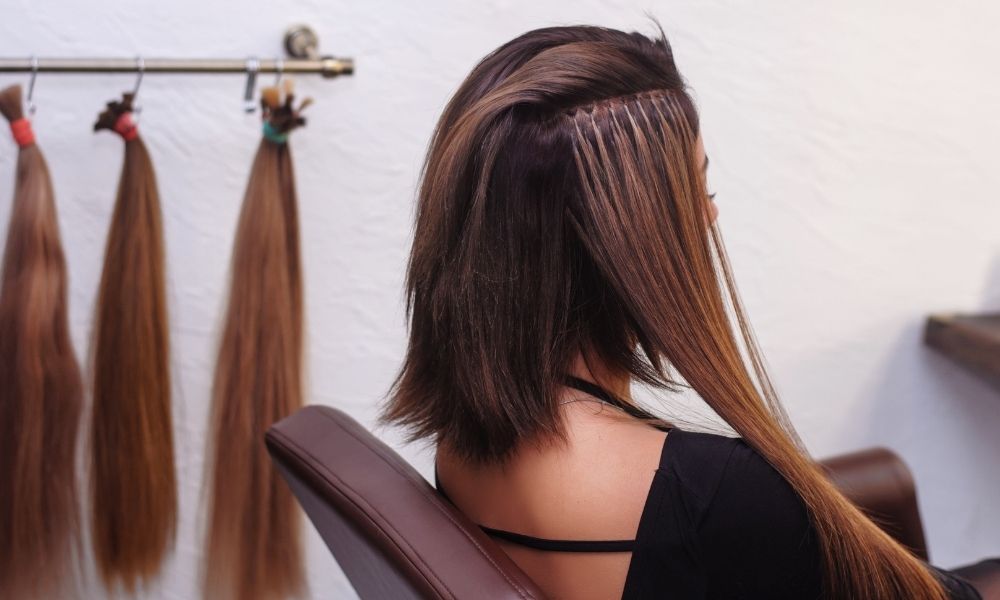 25 Sep

How Extensions Can Benefit Those With Thinning Hair

Thinning hair is more than an annoyance; losing hair can also make us feel like we're losing our identity. More than half of women will have noticeable hair loss, and even though it's common, the emotional damage can be worse than any breakage. It's instilled in us that long, thick, lustrous hair helps determine our worth.

It doesn't—we determine our worth. And if we want thicker hair, we can just add to what we have.

If you're skeptical about how extensions can benefit those with thinning hair, your instincts are sound. Many extensions are too heavy to clip into delicate hair. They can slide out, cause breakage, or pull out even more hair. But Kat Kern Hair Design is a hair extensions salon that can introduce you to tape-ins, which provide an instant solution for a fuller look that can also protect thin and fine hair.

How do they work? Tape-ins are ultra-light "wefts:" strands woven onto a fine strip of cloth. They are attached without using harmful tools or chemicals, just special tape created specifically for this purpose. And tape-in extensions have many advantages:
Fast and easy. They can be applied in well under an hour and easily removed. They can even be reused with new tape.
Long-lasting. You can wear tape-ins for six to eight weeks.
Well blended. Tape-in extensions add volume and length with full coverage. We have different colors and textures, and our years of expertise have taught us to customize and blend them seamlessly with your own hair. We can optimize the look to create the best cut for you.
Versatile. Tape-ins lie flat against the scalp, so you don't have to rule out updos. You can wear them in a ponytail or braid them. Keep them short and full, if you prefer. You can have all the fun you want with styling.
Resilient. If you have an active lifestyle, nothing has to change. Work out, swim, do what you have to do; your extensions will just be along for the ride.
Our stylists at Kat Kern Hair Design have spent years mastering cut, color, and extensions, as well as other techniques, to amp up your look: We've got toppers, wigs, and more. We've seen how extensions can benefit those with thinning hair, and it's not just about adding thickness, shine, and volume. It's about making you feel like you again. We prioritize the health of your hair and scalp so that the final result is natural and refined. Let us create a look that's unique to you; contact us for a consultation at our San Mateo salon.